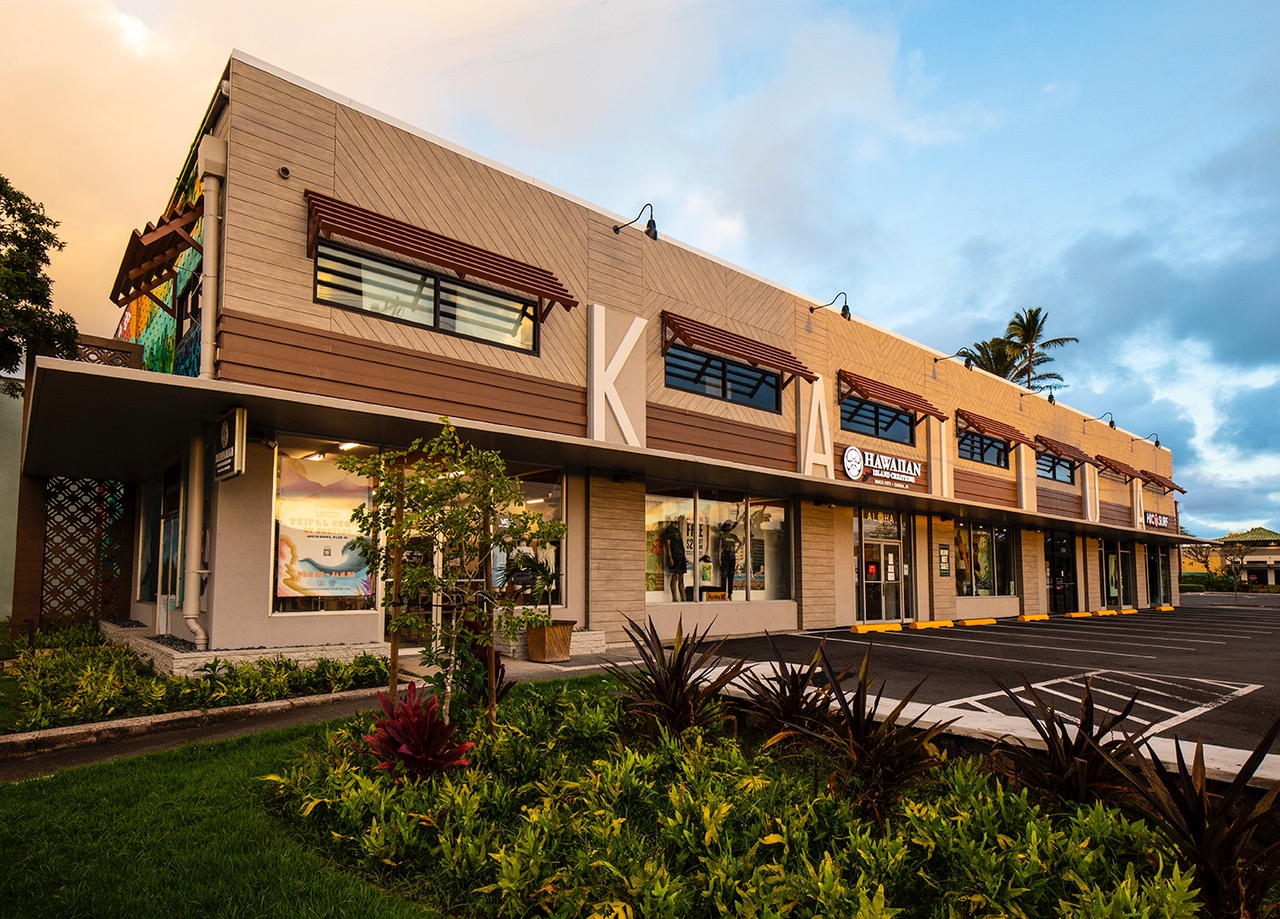 Armstrong Builders Receives Grand Awards at 35th Annual Building Industry Design & Construction Awards
HONOLULU, HAWAI'I (November 28, 2022) – Armstrong Builders recently received two Grand Awards at the 2022 Building Industry Design & Construction Awards for its work on the Hawaiian Island Creations Kailua and Makali'i at Wailea on Maui.
Grand Award, Commercial Remodeling: Projects up to 7,500 sq ft
Realizing the owner's vision of revitalizing an old property in the heart of the Kailua was the goal of this commercial rehabilitation project. The flagship store was in desperate need of rehabilitation after decades of exposure to the elements. Work consisted of a new roof, doors and windows, electrical and air-conditioning, an exterior refresh and new landscaping. The first floor, which was once a mix of retail, storage and loading, became entirely retail with seven bays. The second-floor storage and offices were completely upgraded. Two murals were also painted on part of the building's exterior to draw the eye. Vibrant, colorful and a little bit retro, the mural showcases elements of the area from mauka (mountain) to makai (ocean). The project's design stayed true to Kailua's beach town vibe and its surf shop tenant.
Grand Award, Multi-Family Development: Average Unit Price Over $800,000
Makali'i at Wailea's 68 uniquely designed townhomes are spread across 17 acres overlooking Maui's southeastern coast. Designed in a style described as "Mid-Century Modern Hawaiian," these two- and three-bedroom homes offer the ultimate in indoor/outdoor living. The condominium residences are predominantly three-bedroom units ranging from 1,574 square feet to 1,802 square feet, featuring open, spacious living areas, large lanai and ceilings sloping upward from nine feet at the entrance to a full 13 feet culminating in a full glass wall facing the ocean views.
Among the many amenities of the gated community is the private Makali'i Residents' Club, which offers stunning views from its perch atop the hillside. The Club features a reflective infinity pool, a culinary area and pavilion, a state-of-the-art gym with locker rooms and a relaxing sauna, and walking paths leading to micro parks planted with native vegetation. Renowned artist Satoru Abe created a sculpture for Makali'i, which is displayed at the entry to the Club.
"We're so pleased that two of our projects were recognized with Grand Awards from the
Building Industry Association of Hawaii," said James Keller, president of Armstrong Builders.
"They are a testament to the quality craftsmanship and attention to detail for which our team is
known."
Sponsored by the Building Industry Association – Hawaii (BIA-Hawaii), the Building Industry
Design & Construction Awards showcase excellence in commercial, residential and public
works building/remodeling projects.
About Armstrong Builders, LLC
Established in 1976, Armstrong Builders, LLC is an award-winning integrated multi-disciplinary company dedicated to outstanding service and craftsmanship in the areas of custom home building, luxury, affordable housing and residential community development, and commercial construction. For more information, visit www.ArmstrongBuilders.com or call (808) 848-2484.