HONOLULU, HAWAII (March 13, 2017) – Students and teachers from Huakailani School for Girls in Kailua recently came together to paint a special mural on Armstrong Builders' Lau Hala Shops jobsite fence. Inspired by the natural beauty of the Islands, the mural features the Mokulua Islands, hibiscus, plumeria and butterflies.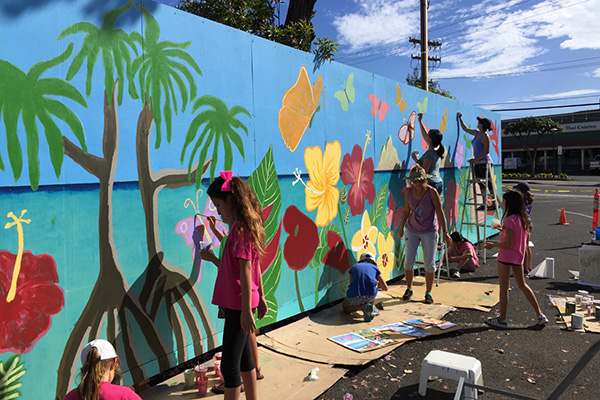 Located at the old Liberty House and Macy's site, the new Lau Hala Shops will feature a mix of restaurants, retailers and services. Construction of the 48,400-square-foot project, under development by Alexander & Baldwin, has started and is expected to be complete in the first quarter 2018.
Huakailani is an all-girls middle school preparatory school located in Kailua Town.
About Armstrong Builders, LLC
Established in 1976, Armstrong Builders, LLC is an award-winning integrated multi-disciplinary company dedicated to outstanding service and craftsmanship in the areas of custom home building, luxury, affordable housing and residential community development, and commercial construction. The company is also a leader in Hawaii's green building industry with a team of LEED accredited professionals and a commitment to building and living sustainably. For more information, visit the website or call (808) 848-2484.