Armstrong Builders' dedicated team includes qualified professionals, industry experts and LEED accredited staff with diverse experience in residential, commercial and sustainable development.
Our versatile professional team is committed to provide you with the best service and highest quality, no matter the job.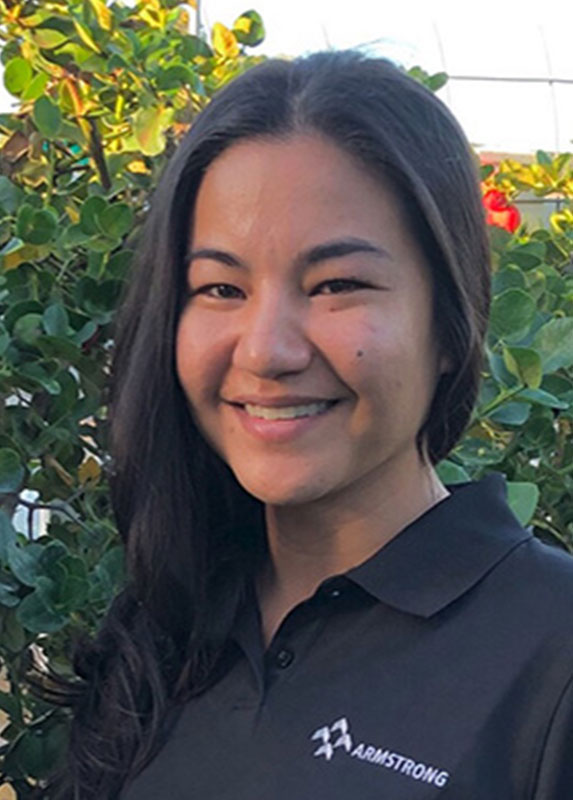 Carisa Calpo
Project Engineer
As project engineer, Carisa oversees procurement and coordination between subcontractors and vendors and on-site construction administration.
Liko Gomme
Project Engineer
As project engineer, Liko provides support to the project managers and superintendents to ensure work is completed safely and efficiently.
Irene Hilgenberg
Senior Project Manager
As senior project manager, Irene oversees cost projections, contract negotiations, management practices, and leads the construction team to success.
Lauren Kaleleiki
Customer Service Technician
Lauren provides oversight of warranty work for completed projects, customer service, and ensures everything meets or exceeds expectations.
Chris Larson
Superintendent
As superintendent with 30+ years of experience, Chris oversees daily operations in design and construction for commercial and residential projects.
James "Jim" Vecchio
Superintendent
As superintendent with more than 38 years of experience, Jim is responsible for supervising subcontractors, consultants, and vendors.
Lisa Yu
Assistant Project Manager
Lisa supports the project manager and project superintendent in completing commercial and luxury residential projects utilizing detailed planning, organization and communication skills.
Cameron Sturm
Superintendent
As superintendent, Cameron is responsible for pre-construction preparation, trade partner relations, safety, scheduling, and coordination and sequencing of day-to-day construction activities.
Chastity Mills
Project Administrator
As project administrator, Chastity supports our project managers and assistant project managers. She efficiently manages and maintains project files, correspondence, and contracts.
Winfield Beucler
Project Engineer
Winfield supports company projects to ensure deliverables are met on time, within budget, and at the highest quality possible as one of our project engineers.
Jake Haltom
Superintendent
Jake, as a superintendent, is responsible for overseeing site activities, managing the project schedule, curating relationships with subcontractors and local authorities, and ensuring safety protocols are followed.
Scott Christie
Superintendent
With more than 20 years of industry experience, Scott oversees trade partner relations, customer relations, and team leadership.
Shellie Ann Grace
Project Engineer
As project engineer, Shellie handles construction administration, procurement, coordination between subtractor vendors, bookkeeping, and more.
Jim Junglen
Project Manager & NAHB Green Professional
With more than 10 years of experience, Jim manages project teams on multi-million dollar construction projects.
Chuck Kiaha
Superintendent
As superintendent with more than 25 years of experience, Chuck oversees project site preparation, planning, scheduling, layout, and quality control.
Kirstin Normand
Project Engineer
After completing an internship with Armstrong Builders, Kristin came on full-time as project engineer to support project managers and superintendents.
Jesse Tyler
Project Manager
As project manager, Jesse is responsible for supporting company projects at every stage and facilitating construction.
Keven Yamaguchi
Finish Foreman
As finish foreman, Keven works with the team to ensure jobs are completed on time and finished to the standard and specifications agreed upon by our clients.
Gregg Nelson
Superintendent
Gregg's duties as superintendent include pre-construction planning, trade partner interactions, safety, scheduling, and coordination and sequencing of daily construction activities.
Scott Goldstein
Safety Manager
Scott is instrumental in creating and fostering a safe working environment, laying down safety protocols, and ensuring every employee is well-versed in these procedures.
Bobby Antonio
Project Engineer
As project engineer, Bobby is responsible for project coordination, review of project design and bidding documents, evaluating contractor bids, vendor consultation, and overseeing construction progress and schedule.
Sharmaine Quilala
Project Engineer
Sharmaine provides support in all facets of the project from estimating and seeking subcontractors during pre-construction; procuring labor and materials consistent with the plans, budget and schedule during construction as a project engineer for Armstrong Builders,